Outlook Enterprises has been the worldwide leader in providing high-quality rendering plant equipment and service to the animal byproducts and protein recycling industry.
We service process systems and rendering plant equipment for many of today's most vital recycling and renewables industries, including:
Animal Byproducts Recycling
Oil Seed Processing
Fish Protein Recycling
Food Waste Depackaging
Process Drying
Pulp & Paper Dewatering
Special Process Applications.
Our Rendering Plant Expertise
Outlook Enterprises has many different plants across the country that we have sold a variety of parts into, but that is just the beginning; we have done a multitude of services for them as well aside from providing the crucial parts to their rendering facilities. From Installing and Manufacturing Stainless Steel tanks to replacing complete auger systems. Industrial painting to Installing new scrubber fans, nothing is too big or small for our service team. Outl0ok Enterprises is able to act as a single point of contact for anything rendering plants, from equipment replacement to part replacement to full-system repair or installation.
Our stainless-steel tanks have housed food, beverages, and chemicals for many companies, big and small. From microbreweries to blue-chip companies,
Outlook Enterprises provides an individualized rendering plant tank system for each client. Our capabilities allow us to scale our operations to match and exceed the needs of almost any size of business. We can accommodate practically any type of business or industry, providing rendering plant equipment to just about any application, any part of the process.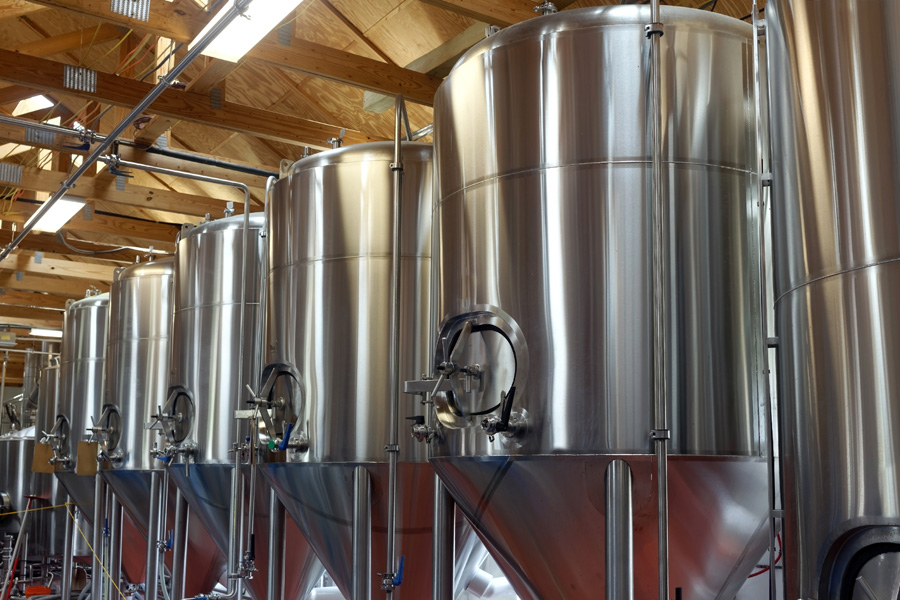 Our high-quality stainless-steel tanks are ideal for storing, mixing, cooking, fermenting, and dispensing a range of products.
Stainless Steel Storage Tanks:
From water to fuel, our storage tanks can keep your products secure and safe from the elements. While our single wall tanks may suit your purposes, consider our jacket tanks for added insulation that prevents heat transfer.
Mixing Tanks:
Our mixing tanks are great for products that need to be combined and distributed evenly. These tanks also double as storage tanks, so you don't need two separate areas for processing and storage of your products.
Fermentation Tanks:
You need a pressure vessel if you want to ferment wort or grapes for your alcoholic beverage production. Fermentation rendering plant tanks differ from our storage tanks because they come with fittings designed to ensure that you can retrieve yeast.
If you're in the food processing industry, you might need more than a storage tank. You need a tank that can quickly change and regulate temperature, to ensure even cooking.
No matter which type of tank you need, many of our options come in different capacities and appearances. For example, we provide both vertical and horizontal tanks. You can install whichever makes the best use of the space you have available.
We take pride in every tank that we engineer and manufacture. Our tanks come with many benefits. No matter which tanks you purchase from us, you will get high-quality products.
We do the work like it used to be done – Right The First Time!!
Outlook Enterprises has aligned itself with Rains-Flo Sealing Systems, which is a manufacturer of Cooker/Hydrolyzer packings shipped all over the world, by working with The Dupps Company, Anco Rendering Company, Haarslev and others to provide the ultimate sealing packing. The long-lasting, self-lubricating Rains-Flo Sealing System is the best, highest-quality packing available in the industry, trusted by companies all around the nation for their quality.
Outlook Enterprises, LLC provides augers, troughing, liners, Baldor motors, all brands of pumps including Allis-Chalmers, Carver, Crane Deming, Tesla Disc, Durco, Dupps, Gormann Rupp, Goulds, Grunfos, Metso, Moyno, Roper, Tuthill, Wemco, Wilden, Worthington, Viking, etc. If you have it – We can get it!