At Outlook Enterprises, we have a variety of industrial conveyor belt repair parts for sale, so you can repair your existing conveyor belt, instead of replacing it at a loss of hundreds of thousands, even millions of dollars. Read on to learn more about what Outlook can offer you in terms of industrial conveyor belt repair and distribution.
CONVEYORS
Outlook Enterprises has conveyor systems for critical applications across a wide range of industries. From manufacturing, mining, crushing, aggregate, asphalt, concrete, rendering, feed mills, food processing, and transportation.
Conveyors and augers systems are durable and reliable components used in automated distribution and warehousing, as well as manufacturing and production facilities.
CONVEYOR SYSTEMS & PARTS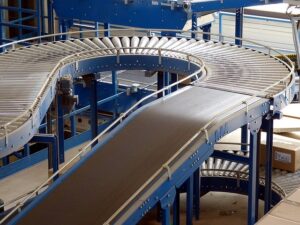 Your company saves labor resources with a conveyor belt. It provides you a transportation
system for large volumes. As a result, you need professional engineers who understand the
complex system for conveyors. There are several conveyor parts with a specific function.
However, it takes proven experience to put it all together. You need a reliable team of
engineers; they need to understand conveyor belts like the back of their hand.
Outlook Enterprises serves multiple industries, which range from manufacturers to mining
companies. We can assemble and distribute parts for conveyor belts in all sizes and styles. Our distribution also deals with augers. If you need to manage or move something heavy, we have you covered. We know exactly what we are doing when it comes to conveyor belts.
BELT CONVEYOR PARTS
There are various belt parts for a conveyor system; it's a complex machine with moving pieces.
However, there are three important ones to consider:
Power rotor
Drive pulley
Belt
These are the main components you need for a conveyor system. The rotor is the engine that
powers the pulley, which moves the belt. When we set up this system, we want the belt to
move both forward and backward. There are smaller mechanical parts that make up these
systems. With that said, every conveyor needs a functional rotor, pulley, and belt. Our belts are
cleats with standard-issue practices; these belts are perfect for food processing.
Damage to any of these parts results in a broken-down system. Sometimes wear and tear can
bring down belts with residual damage. You need immediate repairs to resume your conveyor
service. Whether there are a few small punctures or a noticeable rip, we can put it back
together. We carry years of experience with our technical craftsmanship.
ROLLER CONVEYOR PARTS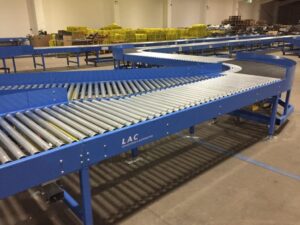 One of the most common conveyor belts involves the use of chains and rollers. For smooth
movements in continuous motion, we offer belt conveyor roller parts with our services. We use cylindrical idler rollers, which align by themselves.
Idlers and rollers are meant to support heavy weight in large volumes. We can install these conveyor systems, so your company moves objects faster. In addition to the rollers, we also use wipers to clean the belt during the movement process. Depending on your company, you may deal with objects that carry leftover dirt. Our wipers help keep your belts clean over time. Otherwise, bits of dust and dirt can clog up machine parts. We always stay one step ahead.
SCREW CONVEYOR PARTS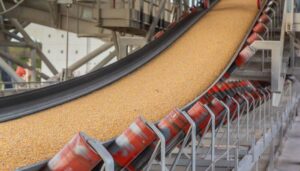 Sometimes you need to push semi-solid materials, such as whole grains. What you need is an auger, which is a screw conveyor with a rotational blade. We have a full understanding of auger screw conveyor parts, such as throughs, clovers, and clamps. Our team can assemble this complex machine for your personal use.
There is a wide range of uses for the auger, such as agriculture and oil fields. A screw conveyor is an entirely capable machine for various mixes. Of course, augers are only as powerful as the materials it uses. Below are the different metal types we offer for the auger system:
Mild steel
Stainless steel
Galvanized steel
Aluminum
Hastelloy
We have an entire line of augers at our disposal. Our company can take single parts and make them into complete units. Depending on your application, our engineers can customize augers for specific needs. For example, when it comes to food processing, we ensure the machines always contain the products. We promote safe methods by industry standards.
CONVEYOR CHAIN PARTS
Companies that work in construction understand how difficult it is to grind asphalt. Conveyor belt drives require strong chains that can withstand intense heat and heavy materials. We use a Tsubaki chain for long-lasting results. You can apply these specialized chains to your operational machinery. The chains are made from high-quality steel and can survive tough conditions, such as summer temperatures. They can also be used for high shock loads.
Tsubaki chains work with conveyor belts on an incline, along with heat-resistant rollers. The
product also works with bucket elevators and apron conveyor chains. We have multiple
attachments to hold it together, such as the following pieces:
K-11 Style Attachment
K-1/2/3 Style Attachments
K-44 Style Attachment
MM-1 Style Attachment
STEEL BELT CONVEYOR PARTS
It's important to use high-quality materials for your conveyor belt machines. You need to factor in both temperature resistance and long-term durability. Our conveyor parts tend to use stainless steel. There are many advantages to this particular material:
Cleanliness: It's easy to wipe down everything and clean up afterward
Strength: Chains with this material carry heavy objects with ease
Durability: You can expect the steel to last a long time
Heat Resistance: Can withstand hot temperatures during heavy operations
BOTTLE CONVEYOR PARTS
Perhaps you run a company that handles beverages. We offer chain belts that can transport
these items in an orderly fashion. It allows you to pour in the liquid, close the bottle caps, and accurately label the products. We follow strict industry guidelines to ensure safety for everyone involved in the process. By doing so, it gives you peace of mind during operations.
CONVEYOR MACHINE PARTS
Bearings allow for a certain motion to be made, and nothing else. Conveyor belts can hold
tension within the rollers with the use of bearings. They are useful mechanical parts for every machine. Without them, a conveyor belt lacks the high-performance capabilities your company needs. Bearings allow for a longer lifespan and reduction of overall downtime.
You need these support elements to consume less energy. With fewer amounts of friction, the conveyor belts reduce the operational costs of transportation. You want to remove any
resistance to movement with your conveyor belts. Bearings are a great way to achieve these
results, especially for heavy machinery.
We use multiple bearings, depending on the surface you want to attach these to. Below we
have a wide range of selections to choose from:
Ball Bearing
Pillow Block Bearing
Split Pillow Block Bearing
Two Bolt Flange Bearing
Four Bolt Flange bearing