Heavy equipment can be expensive. After spending money on crushers, frequent parts replacements are the last thing you want to think about. If you constantly need to buy part replacements, you'll eat into your profits. Although wear parts eventually need to be replaced, taking care of them will reduce costs and prolong the life of your equipment.
MAINTENANCE AND FREQUENT INSPECTIONS
Conducting daily or weekly inspections by looking over the state of your belts, screens, crusher, and feeder will keep you aware of any issues that are developing with your wear parts. Noticing potential issues before they become problems can prevent situations that require a lot of downtime and extra parts to resolve.
Inspections should include not only looking for wear, but also listening for strange noises, noticing smells, and identifying temperature changes. Looking for changes in any of these sensory indicators can suggest an imminent problem that may need to be addressed.
It would only take a couple of minutes to look at your equipment and realize, for instance, that your blow bars are experiencing more wear on one side. Making this observation will allow you to prevent further issues by feeding material on the opposite side. This would allow the blow bar to last for a longer time before needing to be flipped or replaced. Another fix for this issue would be to adjust the settings in order to prevent less material from being crushed, as this would also diminish wear on one side of the blow bar.
Preventative maintenance is also crucial to minimize the chance of breakdowns or failures in your equipment. Performing regular maintenance will maximize the life of your equipment. At Outlook Enterprises, we emphasize preventative maintenance because we know how much it helps in supporting your equipment to reach its maximum life expectancy.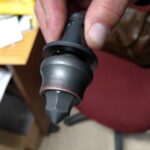 A preventative maintenance plan should include:
Sufficient lubrication of equipment
Early identification of wear or potential wear
Regular inspections of moving parts
OBSERVE MATERIAL FEED SIZE AND MIX
No matter what type of crusher you have, it will have a limit for what size feed it can handle. Subjecting your crusher to maximum feed requirements or feed sizes approaching the maximum can place it under stress, potentially leading to premature failure or drive issues.
It's important to ensure that the material that is being fed cannot be crushed. Some crushers are able to accommodate some steel, but others cannot. If your crusher is one of the latter, you must make sure that the material it handles does not contain steel.
Even if your crusher is able to handle steel, it may only be able to accommodate certain types, like rebar. This means that it shouldn't be expected to work with large steel plates, floor safes, or compressed gas cylinders. Although your crusher may end up being able to handle those materials, you run the risk of needing downtime while you replace the wear parts.
MAKE SURE YOU USE OEM PARTS
When you buy a crusher made of high-quality materials, you should use OEM parts that are designed specifically for the unit. Though some manufacturers can sell parts that are cheaper than the OEM parts, the designs may not have been tested to meet exact engineering specifications. 
TIMELY REPLACEMENTS AND WHEN TO REPLACE THEM
The best maintenance programs include plans for replacing parts that get worn out. Wear parts are going to need to be replaced eventually, and it's important that you do so in a timely manner. If you don't replace the wear parts on your equipment as soon as it becomes necessary, you could face unprofitable downtime, which is not ideal for your business.
Replacements can occur at different points in the timeline depending on which wear parts you use. For example, hammers can be either 2-way or 3-way reversible depending on the application, and these correspond with the number of rotations that are possible before needing to be replaced. For hammers, rotation is needed when the cutting edge is well rounded, as this means the machine is not performing at top efficiency. When all cutting edges are rounded, the hammers need to be replaced.
Similarly, hammer rods should be regularly inspected too. These need to be replaced when they become grooved. Wear plates are another common wear part used for equipment processing. They extend the longevity of mill housing on equipment dealing with abrasive or hard materials, so it is important that they are replaced when they seem to be thinning. Thinning will not allow the wear plates to function as well as they should, and this effect will first be seen around the bolts.
Screens and bar grates can be important for equipment because they determine the finished size of particles. Thus, it's important that they are replaced as soon as the perforations in the screens become elongated or the bar edges in the grates become rounded. Doing this will make sure that the screens and bar grates perform as they should.
Over time, bearings that carry the load of the rotor will wear out. They should be replaced in pairs when they shed excess heat or if the bearings make squeaky or whiny noises. Other signs that the bearings may need to be replaced include a spinning outer ring or signs of vibration within the bearing housing.
WEAR PARTS BY OUTLOOK ENTERPRISES
We supply businesses from all industries with wear parts that they can trust to work well. From teeth, edges, and blades to chocky bars, silo liners, and tungsten carbide embedding, we have it all for you!
At Outlook Enterprises, we can help you with diagnosing problems, installing parts, and repairing equipment. Our experienced professionals are experts who understand how important it is for your business to minimize downtime while maximizing the value of your equipment.
Visit our contact us page or call us today so we can assist you with finding the best wear parts that will suit your needs. We are ready to answer any of your questions and look forward to working with you!