Fire Pumps, Parts, Motors – Outlook Enterprises, LLC has it all. When inspecting and repairing fire pumps we have what you will need! Case gaskets, packing glands, swing bolt assemblies, pre-cut braided packing, relief valves, CLA-VAL'S, pressure gauges, slinger rings, lantern rings and packing removal tools. We sell new fire pumps, motors, rotating assemblies and complete fire pump units if needed. Outlook Enterprises, LLC stocks many of these parts for same day pickup or shipping from our Denver, CO warehouse.
All pumps, regardless of the make or the conditions under which. they operate, are equipped with packing boxes. It is the function of the packing which is placed in these boxes to prevent air, water, oil or other. liquids from escaping from the pump when rotating. Click here to see how pumps are used for high rise buildings.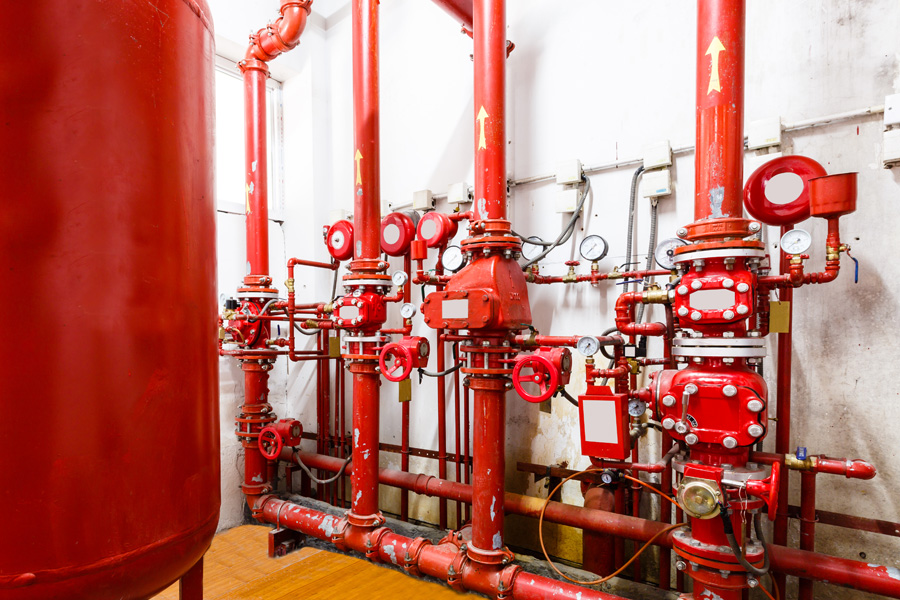 read more
At Outlook Enterprises we sell Fire pump packing, case gaskets, packing glands, swing bolt assemblies, complete rotating units, new pumps, packing removal tools, etc. Most of which we have in stock at our Denver, CO warehouse.
One of the most common repair kits is a fire pump repack. The area where the shaft penetrates the outer casing of a fire pump needs to be sealed so water will not leak out of the pump. The seal at the point of penetration of the casing is known as the packing. When the packing needs to be replaced the old packing is cleaned and scraped out of the housing and new graphite packing (GFO) is installed. Also, new gland bolts and nuts & washers will be installed.
Additionally, we carry OEM parts for Allis Chalmers, Aurora, Fairbanks, Goulds, Peerless, etc.
Pressure & Relief Valves For Fire Pumps
Outlook Enterprises, LLC stocks Winter pressure gauges:
PFQ714 4″, 1/4″ NPT BTM 0-300 PSI/KPA
PFQ707 4″, 1/4″ NPT BTM -30-300 PSI/KPA
Outlook Enterprises, LLC stocks CLA-VAL Pressure relief control
20885302F 1/2″ & 3/4″ 55L-60/300, 100-300 3/4 BS 250S
20881504A 1/2″ & 3/4″ 55L-60, 20-200 3/4 BS 250S
Fire Pump Case Gaskets
Theses gaskets are pre-cut and sized for the exact pump you are working with. OEM parts for Allis Chalmers, Aurora, Fairbanks, Goulds, Peerless, etc.
Fire Pump Packing
Buy our pre-cut packing kits or bulk by the spool. We sell Packing cutting systems that will ensure that you can cut the perfect packing ring!
Fire Pumps and Parts Products >Fire Pump Flyer

Why Maintenance is Vital on Fire Pumps?
If a fire isn't put out quickly enough, it can soon turn into a disaster. Therefore, the fundamental goal of fire pumps is to safeguard human life and property. But only if a fire pump and related equipment function properly and perform when needed. To do this, we must inspect them at scheduled intervals and make the necessary replacements on time and to a high standard.
If a fire pump is never inspected and therefore never maintenance you have no way of knowing if you will be safe when a fire breaks out. Outlook can help you set up the correct inspection intervals and show you what to look for to ensure your fire pump or pumps perform when called on.
Fire Pump Inspection & Testing Guidelines:
Regular testing (at least once a week) to verify that the building's firefighting water system and fire parts are in good condition will help ensure that defects are not discovered in the event of an emergency.
It is also important to check minor components monthly or at least every six months to avoid major system failures.
NFPA regulations require that you test your fire pumps for at least 30 minutes each week. Testing can also help you avoid serious penalties.
From the purchase and installation of a new fire pump to the essential testing and maintenance, the Outlook Enterprises team would be delighted to assist you along the process. Because of the many connections we've formed across the United States and Canada, Outlook can supply any brand or type of goods. In addition, we have nearly 15 years of expertise in a wide range of industries, so please don't hesitate to contact us if you have any queries.